I'm excited to share a new feature on the blog: Inspiration Interviews! This section will feature stories and wisdom from some of the best health leaders out there.
The first interview in this series is with the amazing Joy Pierson – cookbook author, nutritionist, healthy schools advocate, and co-owner of not one but three of the most amazing plant-based restaurants in New York City, Candle Cafe, Candle Cafe West, and Candle 79! Joy is a longtime advocate for healing food and has a very cool founding story. She and I first met at a natural foods show in New York this past summer and she kindly agreed to set aside time for this interview. Joy is not only an incredibly accomplished woman, but is also extremely generous in spirit. I loved reading her story and know you will too!
Quick side note to be sure to check out Joy's newest book, "Vegan Holiday Cooking from the Candle Café" and her work with the very amazing Coalition for Healthy School Food, which helps bring healthy, non-gmo and plant-based meals to New York City's public schools (more on this below!).
How did you first start Candle Cafe?
The Candle story began in the summer of 1984 when Bart Potenza purchased Sunny's a landmark health food store and juice bar located on Manhattan's Upper East Side. In honor of the previous owners' nightly ritual of lighting candles to bless their establishment, Bart renamed it the Healthy Candle and made it his own. In 1987, I began frequenting Healthy Candle as a customer and friend. Eventually, I became the in-house nutritionist for the fast-growing eatery. The Healthy Candle evolved from a juice bar and vitamin shop into a full service eatery featuring a vegetarian menu of homemade soups, sandwiches, salads and entrees. Customer demand overwhelmingly confirmed that Healthy Candle could make a difference in people's lives by feeding them fresh, wholesome, vegetarian food. We knew that we had to expand but how? We asked, and the universe answered: on Friday the 13th, 1993, we won $53,000 in the take-five lottery, and Candle Cafe was on its' way! Since 1994, Candle Cafe has been serving an organic vegan menu composed of the freshest ingredients available, and has been continually rated as one of the best vegan/vegetarian restaurants in the country by both traditional and holistic communities. In 2003, Candle 79 was born just 5 blocks away. Candle 79 has twice been rated as Zagat's #1 vegetarian restaurant, and its reputation is recognized internationally. In 2012, we opened Candle Cafe West on the Upper West Side to rave reviews!
What inspired your interest in plant-based food?
The inspiration evolved when I ate plant-based food myself. Not only did I experience weight loss, I also felt an immediate increase in vitality, mental clarity, and positive energy. I felt so good that I couldn't wait to share plant-based cuisine with everyone!
Favorite Fall recipe?
Thanksgiving is our busiest holiday at all the Candle restaurants. I love to harvest fall vegetables! Two of my favorite fall recipes are Roasted Squash Soup with Almond Cream and Spiced Pumpkin Seeds, and Pumpkin Cheesecake with Apple Cider Reduction, both of which are in our third cookbook, Vegan Holiday Cooking.
What is your favorite new ingredient?
I love the depth of flavor of smoked paprika, which Chef uses in several recipes, including the hummus at Candle 79 (the recipe is in the Candle 79 Cookbook). I'm also intrigued by aquafaba and black salt, both of which are fun to play with in my home kitchen.
Favorite quote?
"Stop complaining and start sustaining." "Life is not about being right; it's about doing the right thing." From Bart's book, Look Two Ways on a One-Way Street: Food for Thought from the Founder of Candle Cafe and Candle 79.
Who inspires you?
Our wonderful customers and the Candle family inspire me every day with their stories of triumph and nutritional insights, as well as all of the organic farmers and purveyors who bring us nature's best daily.
You not only came up with the recipes in your restaurants, but also wrote 3 critically-acclaimed cookbooks! How do you approach new recipe writing?
I approach new recipes with inspiration from our talented and creative chefs, Jorge Pineda and Angel Ramos, who are always looking for innovative ways to excite our diners' taste buds. And we are always inspired by the seasonal harvest!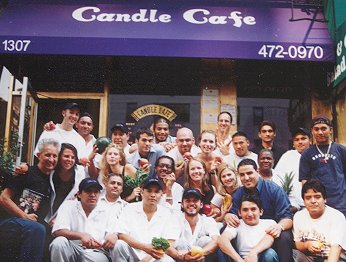 Do you have any formal culinary training?
I am first and foremost a nutritionist/educator. While I don't have any formal culinary training, I am a devoted student of the culinary arts.
What is your biggest achievement so far?
Feeding millions of customers, committed to a healthy lifestyle and a clean environment, the highest quality, most nutrient dense, plant-based food available; introducing plant-based foods and nutrition education to children in schools.
What do you love most about your work?
Creating and serving beautiful, delicious, and healthy plant-based meals that sustain body, mind, and spirit.
What advice do you have for people looking to start a company?
Be prepared: talk to as many people in the industry as possible; become an apprentice and learn from people who are in the business.
You're involved in many philanthropic and community building organizations, including the Coalition for Healthy School Food. Can you tell us about their work?
The Coalition for Healthy School Food introduces plant-based foods and nutrition education to schools nationwide. Our target audience includes students, parents, teachers, school administrators, food service directors, health care professionals, and consumers committed to a healthy lifestyle and clean environment. In the past 11 years, we have helped the first two public schools in the country become vegetarian; we have been instrumental in convincing NYC schools to purchase GMO-free oils; our Cool School Food program in Ithaca, NY is the first Farm-to-School program (nationally) featuring local, organic plant-based proteins; our Visiting Vegan Chef program brings guest chefs to students who are pursuing culinary careers in NYC at the Food & Finance High School; our Food UnEarthed Curriculum is taught to 300 students every week in NYC; our earth-friendly, plant-based entrees are offered to over 10,000 kids in NYC; our recipes have been distributed to 25,000 schools across the country; the Coalition has been recognized as one of five promising practices by U.S. Department of Health & Human Services, Office of Minority Health. www.healthyschoolfood.org
There are few things more magical than New York in the Fall. What are your favorite things to do in the city during the season?
I love going to farmer's markets, visiting organic farms, and cooking fall vegetables from my own organic garden!